Southeast Streamline, Inc. participates in the following Corporate Responsibility programs:
OPERATION ROGER Truckers Pet Transport
Where Pet Loving Truck Drivers, Men & Women, Help Needy Pets
Thanks to our wonderful volunteer drivers it has been our pleasure to deliver…
Their mission statement (summarized):
Operation Roger was formed exclusively for charitable, scientific and educational purposes. Our intent is that through the use of Volunteer Commercial Truck drivers, lost, abandoned, rescued, or left behind pets can reach new protective homes nationwide.  While, also, serving supportive and leadership functions, strengthening the spiritual welfare of truck drives and other individuals.
A success story:
 #660 TROOPER (Golden Retriever) Oskaloosa, IA – Cheyenne, WY
From the Receiver: I recently lost my 10 year old Golden Retriever to brain tumor, and have one 2 yr. old, and one 8yr. old left and wanted to rescue a dog, instead of purchasing from breeder, to grow old with my 2 yr. old. My husband is retired and I work over 60-70 hours a week to help pay for his cancer treatments. We needed help getting this dog to our home. I am willing to help with pet stay-overs in Cheyenne Wy as I am so happy to hear of your agency. We have a very pet friendly home and yard.
**************************************************************************************
From the Shipper: Receivers bad health and needed a companion.  Mary was so ecstatic to get Trooper she kissed the driver Jim on the cheek.  Awwww Wonder if he blushed.
Operation Roger… Truckers Pet Transport is an all-volunteer organization with no paid staff. If you would like to make a secure online donation to help in the expense of getting these animals to their new homes, please visit our donation information page.
*Please take a look at our upcoming events located on our website*
You can contact us via email: operationroger01@operationroger.com
Or write us at:
Operation Roger… Truckers Pet Transport
P.O. Box 522
Joshua, TX 76058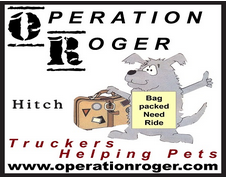 ———————————————————————————————————————————————————————————————————-